Siding Installation & Replacement in Atlanta, Lawrenceville & Surrounding Areas
Quality products & expert installation for a superior home exterior
New siding installation is a great way to improve the beauty and durability of your home's exterior. Trademark Contractors installs siding products from leading manufacturers, offered in a wide variety of materials and colors to match the architectural style of your home. No matter what type of siding you choose, the products we offer will provide durability, excellent value, and a beautiful home exterior.
In addition to siding, we can help you select shingles and accent and trim colors to create a unique, unified look.
For quality siding and expert installation, call us at 1-855-642-6628 or click below to request a free on-site design consultation and estimate today!
High-quality siding options that combine beauty & durability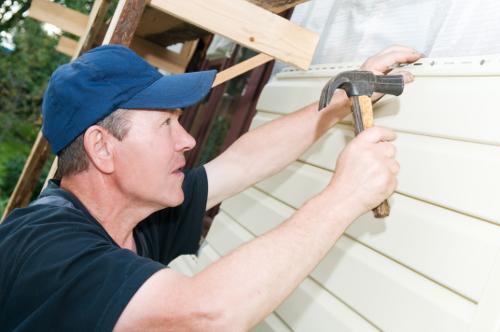 The right material, the right benefits. All of our siding materials are designed with a specific purpose in mind. We can help you choose the best option for maintenance, durability, cost and appearance.
At Trademark Contractors, we offer multiple siding materials including traditional and maintenance-free solutions that will increase the beauty and value of your home. We use the best siding products from leading manufacturers. Take a look below at the major benefits of the different siding materials that we offer. Our siding specialists can help you choose the best option for your home.
Fiber Cement Siding
Available in a wide range of colors & styles
Designed to resemble conventional siding materials like cedar shingles, wood & stucco
Resistant against fire, wind, termites & rot
Durability of material reduces maintenance costs
Can be primed & painted
Stucco Siding
Blend of sand, lime, and cement
Excellent durability
Can be created in any color or style
Versatile option that can be easily customized
Stone Veneer & Brick Veneer Siding
Provides a realistic look of traditional brick & stone
Low-maintenance siding option
Cost-effective alternative to real brick & stone
Brick veneer siding is durable & fireproof
Faster & easier to install than real stone & break
Steel Siding
Provides exceptional strength & impact resistance
Available in a variety of colors & textures including wood-grain
Excellent fire resistance
Manufactured with a protective coating for optimal performance
Cedar Siding
Provides a beautiful, unique, timeless look
Naturally water resistant
Provides resistance against decay & insects
Siding can be treated with stains & finishes
Cedar is an environmentally-friendly material
Aluminum Siding
Aluminum siding is waterproof & won't rust
Enamel coating can mimic the look of traditional siding materials
Resistant to fire damage
Can be combined with insulation for greater durability & efficiency
Get a free siding estimate today!
All of our siding options allow you to customize the appearance of your home's exterior. After reviewing all of our options, speak with one of our professionals during a free estimate to have your new siding installed at a time convenient for you.
Trademark Contractors provides our professional siding services in Buford, Atlanta, Lawrenceville, Dacula, Gainesville, Braselton, Suwanee, Roswell, Alpharetta, Duluth and surrounding areas.