Customer Reviews
About Me
By Chris C.
Greer, SC

"best contractor experience in my life"

By Gary M.
Greenville, SD

"Sam Aldridge was very responsive and professional at all times. Found things other sales people missed."

By Eugene V.
Braselton, GA

"I felt assured through speaking with Mr. Aldridge that trademark would be the fastest and simplest (on my end) company to work..."

By Robert
Dacula, GA

"Best experience with a contractor ever!!"
Sam Aldridge

from

Trademark Contractors
Title:
VP of Sales
Sam has been in the construction and storm restoration industry for the last 6.5 years and has been employed at Trademark Contractors for the past 4.5 years. Sam's day to day at Trademark involves following up with current clientele, Building estimates, Reviewing current contracts, Writing Supplements, Ordering material for jobs, Quality Control on job sites, job site management and coordination, Insurance Restoration Supplements, negotiating contractual prices and scope of work, Accounts Receivables, Final Invoicing, Sales Meetings and Management, Overview of marketing expenditures, On site damage assessment, Meeting insurance adjusters, Assisting clients with product knowledge and selections. Sam likes that his schedule is always changing and that he is able to interact with the rest of the Trademark team in the field. In his spare time, Sam likes to spend time with his wife and three kids. They enjoy playing sports, riding bikes, good cuisines, and live music.
Videos from projects I was involved with: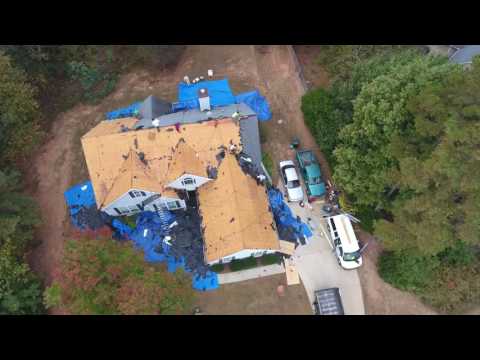 New Roof Replacement in Buford, GA
New roof replacement in Buford, GA
Watch Video
Related Videos